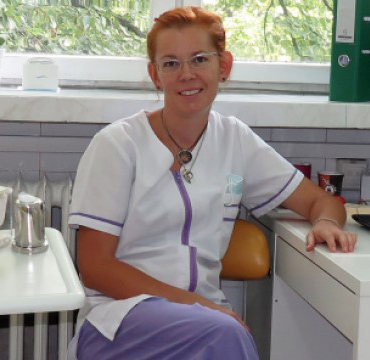 Dr. Anastasia Chavdarova
Dentist, 22 DKC Sofia
My name is Anastasia Chavdarova. I graduated in 2005 from the Medical University in Sofia, Bulgaria. Since then I have been practicing and cooperating with a number of good dentists from whom I learned a lot about teeth and even more about people. I am continuously broadening my skills through regular courses and seminars, some of which include:
14 - 16 April 2016, Sofia – Three-day phantom practical course with Dr. Ksenia Lazareva on "Art Teeth Restoration Using Sergei Radlinski 's Methodology";
14 November 2015, Velingrad - Seminar on "The New Role of the Composite," Stefan Petrov and Ivaylo Ribagin;
03 - 04 April 2015, Sofia - master class on "Restoration of Teeth Rows and Individual Teeth. Correction Diastemas and Tremas.", Dr. Sergey Radlinsky;
6 February, 2015, Sofia - lecture on "Aesthetics: The Right Way in The Modern Restorative Dentistry", Prof. Simone Grandini;
November 2014, Sofia - practical course on "Systematics and Techniques of Successful Direct Restoration on Posterior teeth", Prof. Radosveta Vassileva
27-30 September 2012, Sofia - 5th Sofia Dental Meeting;
25-26 March 2011, Sofia – international dental conference on "Constructing an Occlusal Surface'' , Dr Irina Kibenko;
19 March 2011, Sofia – clinical seminar on "Development of Occlusion from Birth to Adulthood'', Prof. Dr Laura Andreeva;
30 Sept-03 Oct 2010, Sofia – Sofia Dental Meeting;
June 2010 - Acquired X-ray legal capacity, NCRRP, Sofia
1-4 October 2009, Sofia – Sofia Dental Meeting;
12 September 2009, Sofia – course on "New Strategies in Biologically Guided Periodontal Treatment and Opportunities of Laser Therapy", Dr Franchesko Marteli;
28 March 2009 – lecture on "Contemporary Surgical Treatment of Periodontal Diseases. Supporting Therapy", Dr Adriana Josifova;
10 September 2008, Sofia – lecture and practice on Dental Photography, Dr Nikolaj Nikolow;
04-05 April 2008, Sofia – lecture on "What is and What is Not Relevant in Modern Dentistry!", Prof. Marco Ferari;
15 October 2003, Sofia – lecture on "Start in the Profession", Dr Lidia Katrowa.